Equine Art, Horse Racing Prints & Pictures, Christmas & Greetings Cards
This is the Web Site devoted to the work of Sue Wingate MA, RCA, the internationally renowned equine artist whose work can be found in private collections around the world.
Original paintings and drawings by the artist are sometimes available, please contact her for further details email: info@btinternet.com. Alternatively why not ask her to create something special and unique especially for you? Gift vouchers for commissioned portraits are available and make a wonderful gift!
We offer a wide selection of Limted Edition Prints featuring famous racehorses, racing and training scenes, and other horse and animal related studies and landscapes; Christmas and Greetings Cards; Glass Table Mats and Coasters - all of which reproduce original artwork by Sue Wingate.
Great care is taken to ensure that all of our products are of high quality and are suitably packaged for despatch. We are happy to offer a Full Guarantee on all products and will replace any items or make a full refund if they do not meet your expectations in any way.
What's New?
We have been very busy creating a brand new product range - our stunning Glass Table Mats and Coaster sets, not only incorporating our existing range of images but adding a Photographic Range too. To begin with we have flower power images and already have a new card range to match.
A study of the brilliant racehorse 'Frankel' is available in various formats including a Limited Edition Print, Tablemats and packs of Notecards, a full size print is to follow and you may register for a special pre-publication offer. More info.
Another notable addition to the range of prints and cards is the portrait of Germany's Champion racemare "Danedream" (English translation) or "Danedream" (German translation).
GIFT VOUCHERS! Are now available in any amount, presented in a card of your choice with your own personalised greeting... Emu Loans.
Our Latest Christmas Card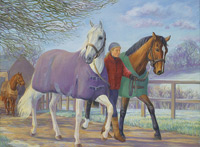 "Turning Out"
We have a very wide selection of card designs. See here.
These can be overprinted and personalised with your own greetings. See details of our service and samples of overprinting.
Our Latest Prints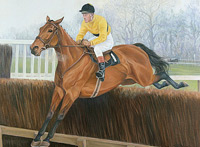 "Arkle"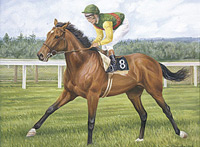 "Nijinsky"
FREE SAMPLE CARD!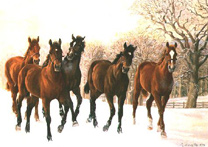 Our cards retail between £2.50/£2.75 each.
Since we cannot show you the quality of our cards we would like to send you one so that you can judge for yourself!
In the case of non-availability an alternative design will be sent. The card will be blank inside for your own message.
Go to the request a FREE card page and colour brochure and fill in your details.
"Frankel"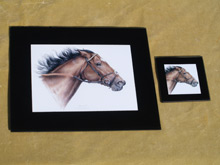 "Frankel"
This image is just one of a wide selection in our new range of Glass Mats and Coasters
"Danedream"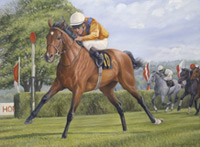 "Danedream"
Germany's best loved racehorse! Now available in a print and cards.
flower power images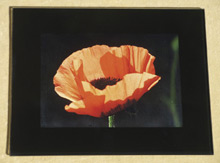 Striking photographic designs by Sue Wingate! Glass tablemats and greetings cards.