FIELD GALLERIES
About the Artist Sue Wingate

It's a breath of fresh air. Many wonderful things to see and do. Can spend hours just exploring all the sites. Will be a great friend to have on the up coming winter season when the weather keeps you in. Thank You,
David Seliga (USA)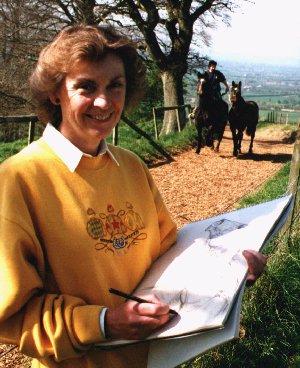 "Even as a small child I was forever drawing horses and it seemed that I came into this world with an innate passion of horses despite not coming from a traditionally 'horsey' background. It was therefore with a degree of inevitability therefore that on leaving school I attended the required number of colleges and obtained my Dip. A.D. finally achieving a place on a Post Graduate Course at the Royal College of Art. where I obtained my M.A. There were over 850 applicants for the 30 available places so I was immensely proud to be selected. Whilst there I was not painting horses at all but huge landscapes largely based on Spanish subject matter.
In my first year at the Royal College I won two scholarships (one for my printmaking and drawing and the other the 'David Murray' prize for my painting) one of which required me to travel during the summer vacation and produce a portfolio of work as a result. Thus, my summer was spent in Valencia and Andalucia.
As a result I developed a great attraction for the country as a whole and upon graduation I lived in Spain for a while. "Life works in circles and whilst living abroad I began painting horses again beginning with a small watercolour of Brigadier Gerard as a present and from there it just grew.......
Another bonus from my time in Spain was the opportunity to become acquainted with the wonderful horses of Andalucia. An interest which has never deserted me and is about to come full circle.......
My life as a professional artist and Director of Field Galleries does not leave a lot of leisure time but as I feel I am privileged to do what I love for a living, it does not matter! However, I do love walking my dogs in the countryside, riding, reading, listening to music and socialising with friends."
Sue has never been particularly prolific as an artist therefore it has always been difficult for her to produce the quantities of work required for exhibition purposes especially as she always has ongoing commissioned work as well. She has had work shown at exhibitions including Lexington, Kentucky in the United States in a mixed exhibition of equine artists although she was the only non American artist represented. She spent six weeks there and had the wonderful privilege to visit many of her equine heroes then at stud.
Also, in 1990 Doncaster Museum and Art Gallery held a major exhibition of her paintings to coincide with the St. Leger meeting. The Museum commissioned a painting entitled "The Spirit of the St Leger" especially as a centrepiece for the exhibition. The painting features the most outstanding horses to have won the race between 1970 - 1990 and now forms part of the Museum's permanent collection.
Her work has also been shown in other mixed exhibitions including at the Equus Gallery in Newmarket.
In fact since 1980, she has undertaken many prestigious commissions including painting the Derby winner Teenoso twice for his owner, the late E.B. Moller, which was a wonderful experience for her.
Over the years she has painted many outstanding horses including:
Among her most notable patrons are the late Lord White of Hull, Richard Burridge, Norcros plc and Stud owners: W.J. Gredley, J.C. Smith and the late D.K. Harris.
On of her earliest commissions was to paint Corbiere on behalf of the Sun/Times Newspaper Group who sponsored the Grand National at the time. A limited edition of prints was produced from the painting and a competition held with the original painting as first prize. The competition was a great success and as a result she later painted a picture of the memorable Derby finish between Secreto and El Gran Senor which was sold as a limited edition of prints through the Telegraph magazine ro raise money for the 'Save The Children Fund'.
Her connection with the National Press has proved most fruitful over the years and she has produced 3 limited edition prints on behalf of the Sporting Life, all of which sold out. These were Dancing Brave (sold out in 3 weeks and the prints now resell for as much as £500), Desert Orchid with Colin Brown and a Scene from the Grand National.
Her paintings are often reproduced in various ways including on racecards at Newmarket and they have featured on the covers of such publications as "The European Racehorse", "The Chronicle of the Horse" in the USA (twice) and Odds On magazine. Her pictures regularly appear in "Travelling the Turf".
Examples of her work can be found in private collections all over the world including USA, Canada, Hong Kong, Japan, Australia, New Zealand, South Africa, The Netherlands, France, Spain, Italy, Sweden, Ireland, Belgium and Germany.
With regard to the future, she intends to maintain her connection with the world of the thoroughbred racehorse but she will be painting different breeds especially Arabians, Lusitano and Andalucian horses. Hence her earlier reference to her special interest in the latter coming full circle.
Home

Contact Us

Secure Order Form

Christmas/Greetings Cards

Limited Edition Prints

Glass Table Mats and Coaster Sets

flower power images

Postcards

Collectors' Cards

Portraits

Commissions

Stationery

Brochure

Screensavers

Search our Site

Mailing List

| | |
| --- | --- |
| Copyright © Sue Wingate 1997-9 | |